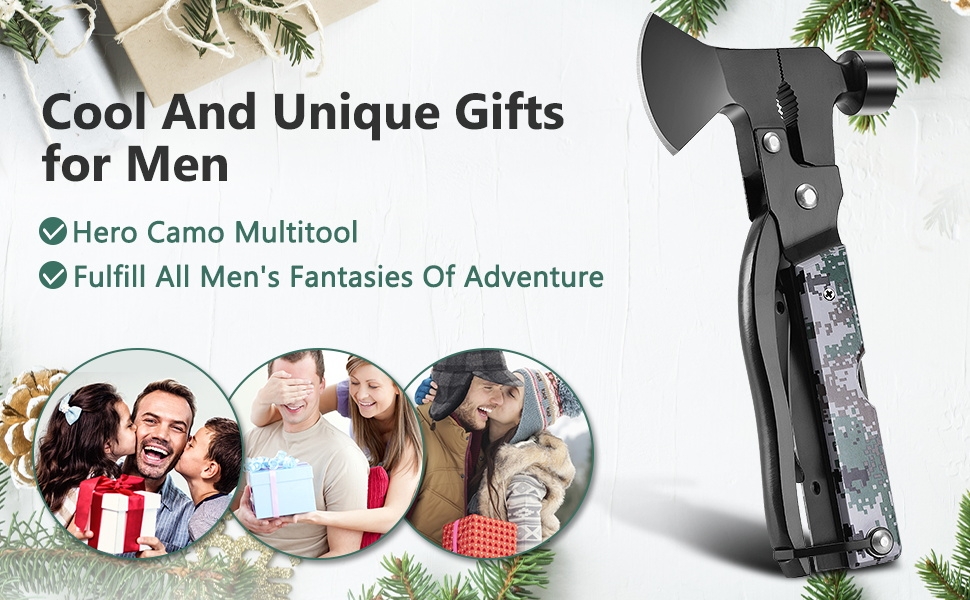 What is a multi-tool?
A multi-tool is a handheld device that combines several tools in one, typically including pliers, a blade, and at least one screwdriver. It is designed for daily all-around use or outdoor pursuits and can include functions such as scissors, wire cutters, saws, and bottle openers. Multi-tools are an essential piece of outdoor gear, providing access to a wide range of tools in a compact and portable device. They are also useful for home and workplace tasks. Value in multi-tools is determined by the purchase price, materials, construction, and ergonomics. Multi-tools are ideal for outdoor sports and activities, providing a lightweight and limited-function option for tweaking gear.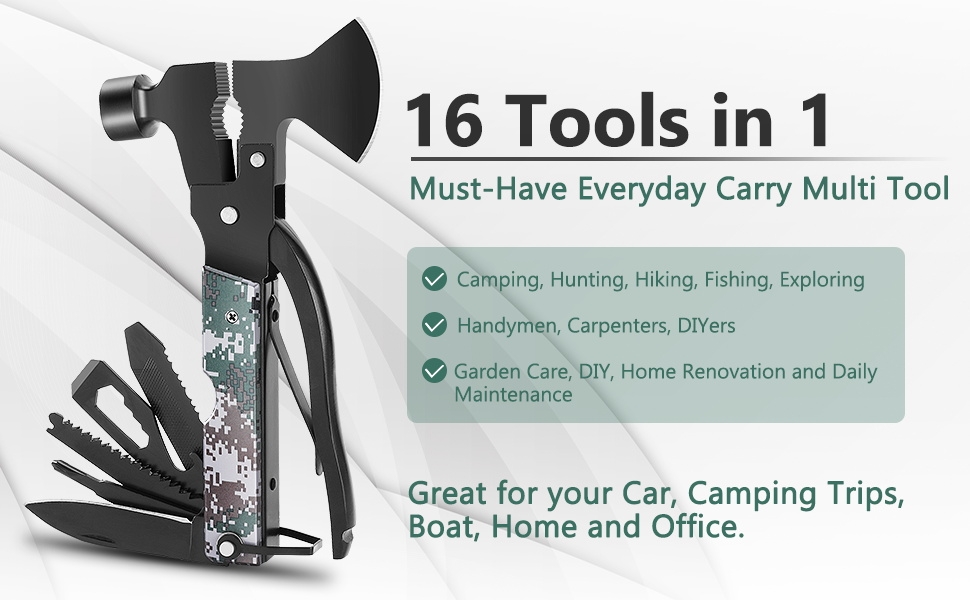 One of the most important things about planning for a camping trip is being prepared for any eventuality or emergency.
Why use a multi-tool for camping?
A multi-tool is a must-have for camping enthusiasts because it provides convenience and versatility in a compact form. Here are some reasons why:
With a multi-tool, you have access to a variety of tools in one device, eliminating the need to carry multiple tools.
Multi-tools can help you conquer just about any task at hand, from opening cans to tightening screws and cutting ropes.
They are designed to be functional for a variety of uses while not feeling too gimmicky, making them perfect for camping trips.
The best camping multi-tools have enough tools to be useful for different purposes, such as pliers, wire strippers, and both flat and Phillips screwdrivers.
Camping multi-tools are incredibly useful and pack a ton of utility into a small pocketable form factor.
They are great for camping, hiking, backpacking, driving, fishing, exploring travel, simple household fixes, and emergencies.
The design of good camping multi-tools compliments their functionality by making tools easier to access, use, or store.
A camping multi-tool is a thoughtful and unusual gift for Dad/Boyfriend/Husband who is interested in adventure or preparing for camping, hunting, or hiking.
In summary, a multi-tool is a versatile, compact, and convenient tool to have on a camping trip, providing access to a variety of tools in one device and making tasks easier and more efficient.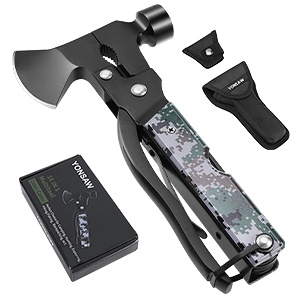 Size & Weight:
Closed Size: 6.9" x3.5"x 0.9" inch
Open Size: 9.9"x3.5"x 0.9" inch
Weight: 15.0 oz
What Will You Get From Our Multitool?
Axe, Hammer, Flat Jaw Plier,
Regular Pliers, Wire Cutter, Knife,
Bottle Opener, File, Wood Saw,
Slotted Screwdriver, Philips Screwdriver,
Fish Descaler, Assored Hex Wrench,
1x Solid Nylon Pouch,
1x Blade Nylon Sheath
What is The Advantage of Multitool?
More Portable and Safe

This upgraded pouch is designed to keep the item in place and make it more convenient to take out and use whenever needed. So, you can rest assured that your item will be well-protected and easy to access at all times.

Extra Safety

This sheath provides an extra layer of protection against injury when using the hammer or other tools, ensuring double safe protection. So, you can use our product with confidence, knowing that your safety is our top priority.

Emergency Hammer

Our multitool is a must-have for any emergency situation. With its ability to break windows and cut seat belts, this tool can help you escape from dangerous situations and defend yourself if needed.

Surprise Gift

 So, surprise your friends and family with a gift they'll love and find useful, or treat yourself to a versatile and convenient tool that you can take anywhere.
Scenes to be used – For Any Occasion!
| | | | |
| --- | --- | --- | --- |
| For Camping | For Hiking | For outdoors | Car Tools |