The Importance of Music in Daily Life
Music has always served as a powerful force in society, with the ability to evoke deep emotions, create shared experiences, and even promote healing. It is an essential aspect of our daily lives, often acting as a background score to numerous activities and experiences. It can elicit feelings of nostalgia, joy, sorrow, or even excitement. The powerful influence of music is a universal phenomenon that no culture can deny, making it an integral part of human existence.
The role of music in human life is not only confined to enjoyment or entertainment. Research has shown that it plays a significant part in shaping our personalities and impacting our moods and mental health. It is a medium that transcends language barriers and unites people across the globe. The neuroplasticity of the musician's brain, as mentioned by neuroscientist and opera singer Dr. Indre Viskontas, is proof of how learning and performing music can alter our brain function. This highlights the significant impact of music on our lives, making it a subject of importance and interest.
Types of Music Gadgets
1. Musical Instruments
Staying in tune with the rhythm of life just got a lot more joyful with a range of innovative musical gadgets set to make every music enthusiast's heart skip a beat. Whether you're an avid music lover, a seasoned musician, or a newbie, these gadgets have you covered. Ranging from pocket synthesizers and digital metronomes to smartphone-compatible keyboards, they're putting a playful spin on experiencing music.
2. Audio Equipment
This is an essential prop in the grand stage of music. With the right piece, you can transform your ordinary room into a personalized concert.
Audio equipment refers to devices used for recording, reproducing, or processing sound. For example, the UE Boom 2 Speakers deliver powerful, room-filling audio. Whether you require a sound system for a party or you're looking for studio-quality music at home, define your requirement.
3. Electronic Music Tools
Electronic music tools are innovative devices, offering a virtual plethora of high-tech features designed to enhance music production and enjoyment. From synthesizers that fit in your pocket, to smartphone apps that help master DJ mixing, such tools are indispensable for music lovers and producers alike.
4. Music Education Tools
Music and technology have entwined in harmony, stimulating a melody that reframes the musical experiences we're accustomed to. Both music enthusiasts and producers have found treasure in the realm of Music Education Tools, accessories that nurture their passion and ingenuity.
Arguably, these tools raise the bar of musical interactions as they facilitate learning and present music in a new light. Numerous gadgets have been introduced, each uniquely suited to an individual's music journey.
5. Band Tools
In the world of music gadgets, Band Tools is a game changer for any musician. Designed to enhance the musical experience and improve performance, these tools are all about making life easier, more efficient, and more musically rewarding.
Making the best use of tech means staying one step ahead as a musician. So, these band tools are undoubtedly a must-have for a superior musical journey.
6. Drum Machines
Drum machines, like the compact yet powerful Korg Volca, are a hidden gem in the world of music gadgets. They're not just your regular synthesizers; they're entire drum kits and tone designers tucked into a neat, portable package. What makes them so essential? Well, their ability to create real tracks using drum and synth sounds offers a uniquely rewarding musical experience. Key features, to name a few, may include a wide variety of percussion sounds, a beat-keeping function, and a portable design.
Whether you're a drummer aiming to hone your skills or a music enthusiast seeking to add a cool retro tone to your mixes, a drum machine could be your new best friend. Pro tip: experiment with your drum machine, adjusting the pitch, duration, and effect of the sounds to unlock its full potential!
7. Headphones
Undoubtedly one of the most essential music gadgets you could possibly possess. Headphones are the unsung heroes of a musically rich life, providing both sublime listening experiences and key tools for music creation. They're a quintessential component of any music-lovers toolkit, so if you don't yet own a pair, you may want to consider an upgrade to your audio lifestyle.
8. Music Apps
The blossoming of music apps has penned a new symphony in the world of music gadgets. By weaving technology into melodies, these game-changing tools have redefined our musical experiences, making tunes more accessible and interactions more dynamic than ever.
9. Musical Instruments in the Cloud
This innovative concept is redefining how we create, share, and experience music. Cloud-based musical instruments are virtual music tools accessed and played via software programs. They provide a cutting-edge alternative to traditional physical instruments, offering unparalleled convenience and versatility.
As top music gadgets today, they empower musicians in compelling ways. They allow for easy collaboration, and access to a vast range of sounds, and often come with in-built training modules. Key features like portability, Bluetooth connectivity, compatibility with other tech tools, and often competitive pricing, make them appealing to the modern musician, music learners, and tech-savvy music enthusiasts alike.
10. Musical Instruments That Connect to Smartphones
Visiting the intersection between technology and music, you'll find innovative gadgets transforming your musical experience. Instruments like the iRig Keys and the Jamstik+ Smart Guitar are pushing boundaries, connecting straight to the smartphone in your pocket.
If you're just starting out with music, these wonders are a fantastic alternative to traditional instruments. They offer intuitive learning aids, so you don't have to go through the grueling process of self-teaching or hiring a tutor. The iRig Keys, for instance, connects directly to your phone, comes with a host of apps to track your progress, and fits snugly in a backpack.
Awesome Gadgets to Enhance Your Music Experience
1. ORBA by Artiphon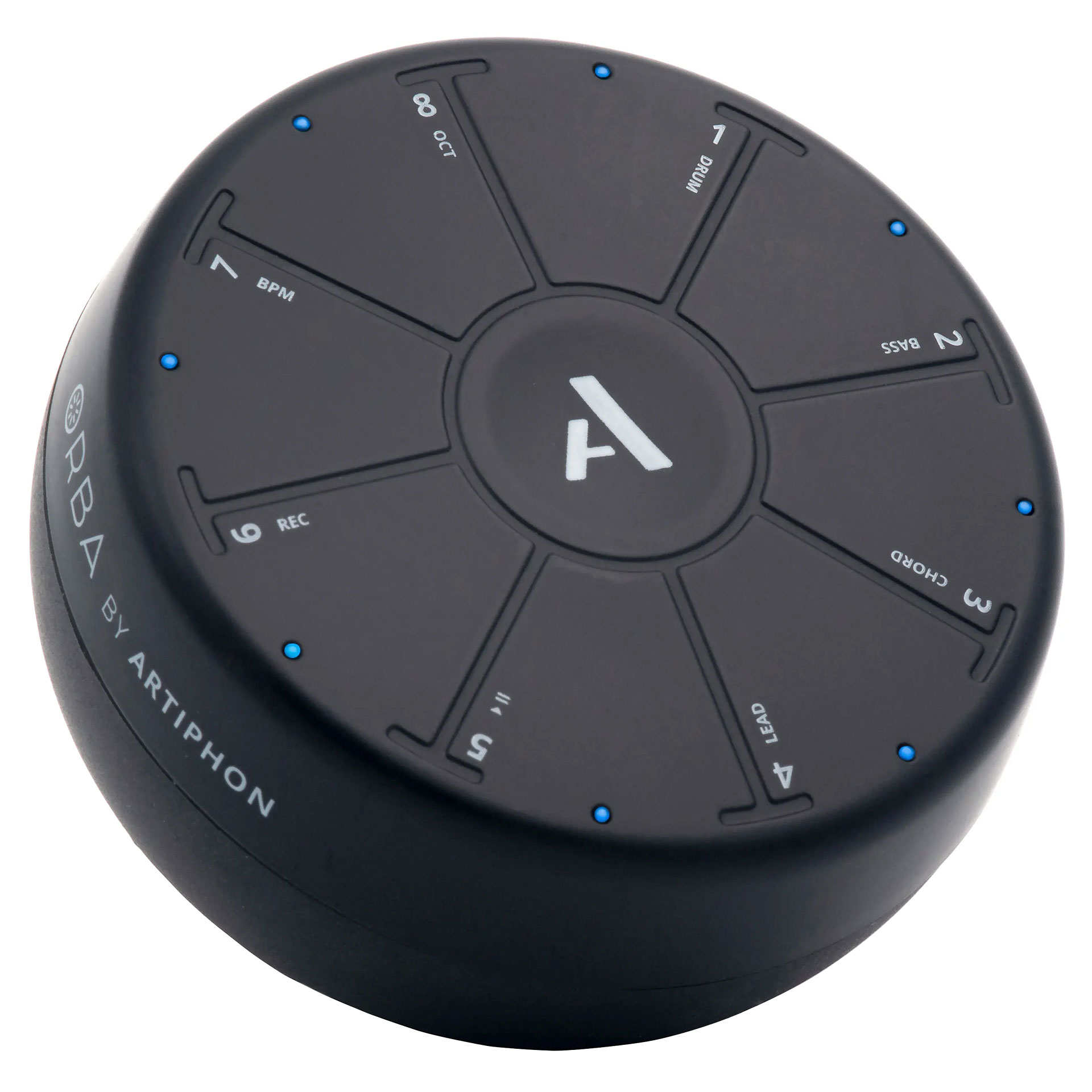 Meet the Orba by Artiphon – your compact and unique toy for a more enhanced music experience. This palm-sized, puck-shaped device lets you conveniently compose a full suite of music, no matter where you are.
Top Features:
It has 8 pressure and aftertouch sensitive pads that allow you to craft a composition with drums, bass, chords, and lead sounds.
It even responds to your gestures. Simply spin, tilt, or shake the device to shape the onboard synth sounds.
The Orba houses a built-in separate synthesizer and looper, controllable by a simple flick of your wrist or an extended press on a pad.
To broaden your musical playground, the device can also link to various apps through Bluetooth or USB connectivity.
It's perfect for musicians looking for a quirky yet valuable device that helps innovate their creation process. Plus, with added capabilities as an advanced midi controller, the Orba lets you control your favorite music software, further expanding your creative opportunities.
2. MIDI FIGHTER by DJ TechTools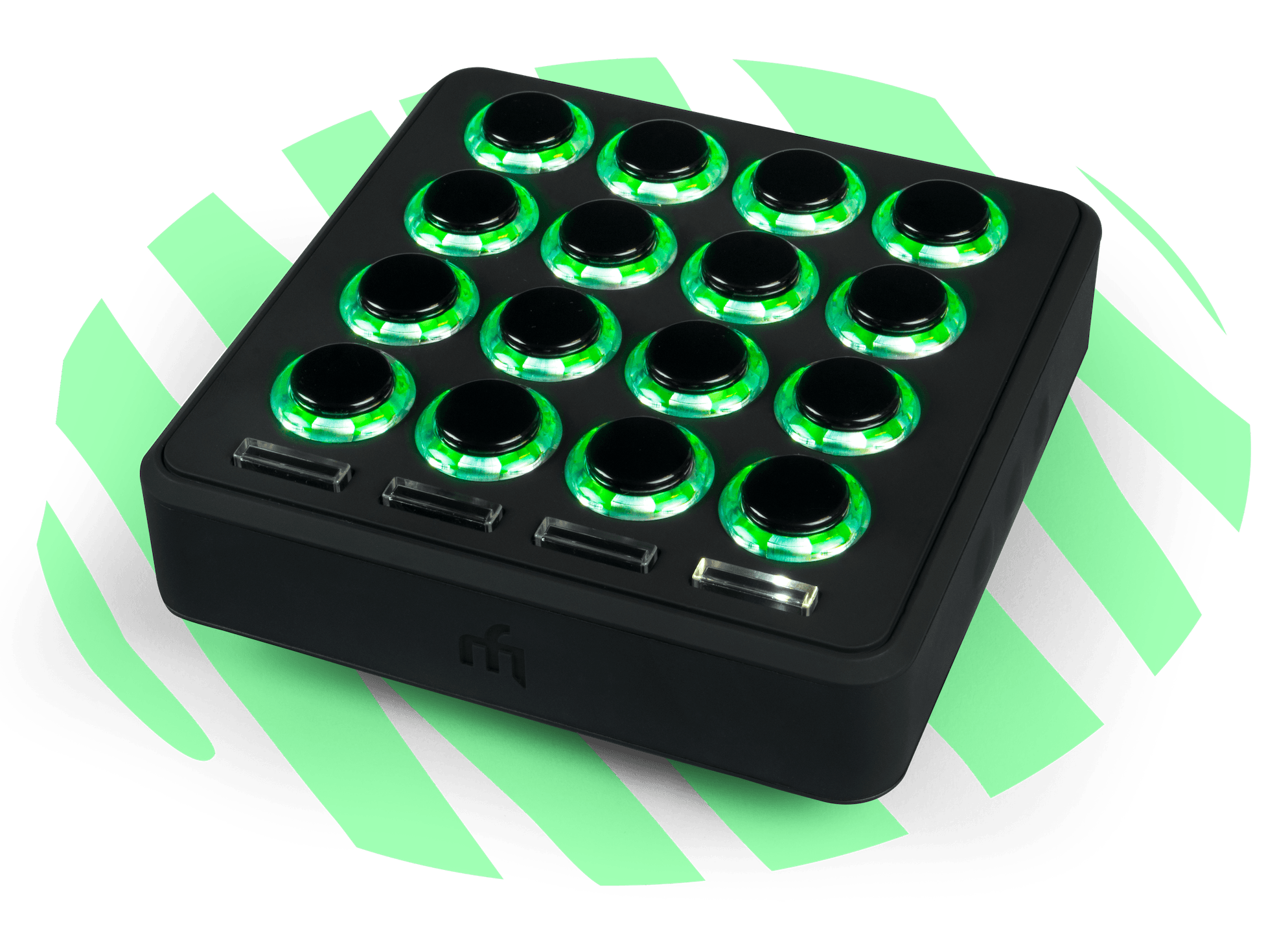 Get ready to meet the MIDI FIGHTER, recognized as one of the coolest button controllers in the DJ scene. Launched by DJ TechTools in 2013, it's practically a household name for any music aficionado out there. Imagine having a mammoth 64-button controller that echoes the spirit of Sega and Nintendo arcade machines.
Here's the deal, these buttons can withstand over 5 million 'vigorous presses', bringing durability and versatility right to your fingertips. What's more, it's fully customizable with RGB patterns and light programming abilities to sync with your creative flow.
We have to admit, for finger drummers seeking a more interactive and visually engaging setup, this gadget is a gem. Starting from around $200 USD, this solid DJ controller is worth every penny. Trust us, it's not just about having a MacBook anymore, a good DJ requires a MIDI FIGHTER.
3. Erae Touch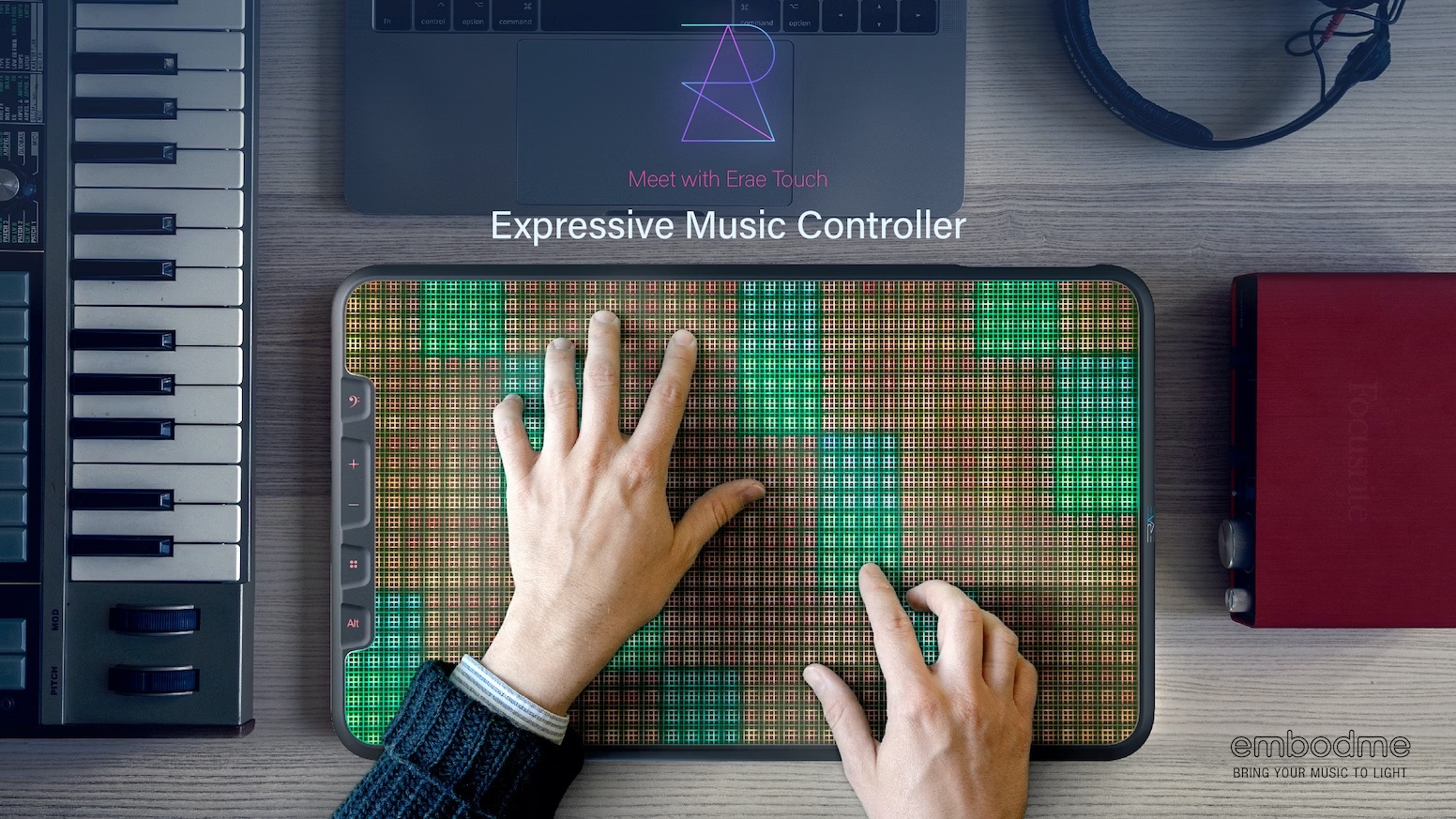 Erae Touch is an extraordinary gadget tailored to revolutionize your music experience with its incredible sensitivity and versatility. This game-changer empowers you with the liberty to generate music blended with an abundance of expressiveness.
The Erae Touch boasts more than 1000 super-low latency sensors packed into its dynamic multi-touch display. Compose stunning music just by pressing, lifting, and gliding your fingers on the display.
Even if you are not a seasoned musician, 'aided composition' serves you well, letting you spawn awe-inspiring symphonies funnily and effortlessly.
It's perfect for amateur musicians looking for a tool to elevate their creative game.
A quick tip – Try out gliding your fingers differently on the fluid interface to unveil more dimensions to your sound. Let Erae Touch be your gateway to a world filled with enriched and fearless musical experimentation.
4. Jammy EVO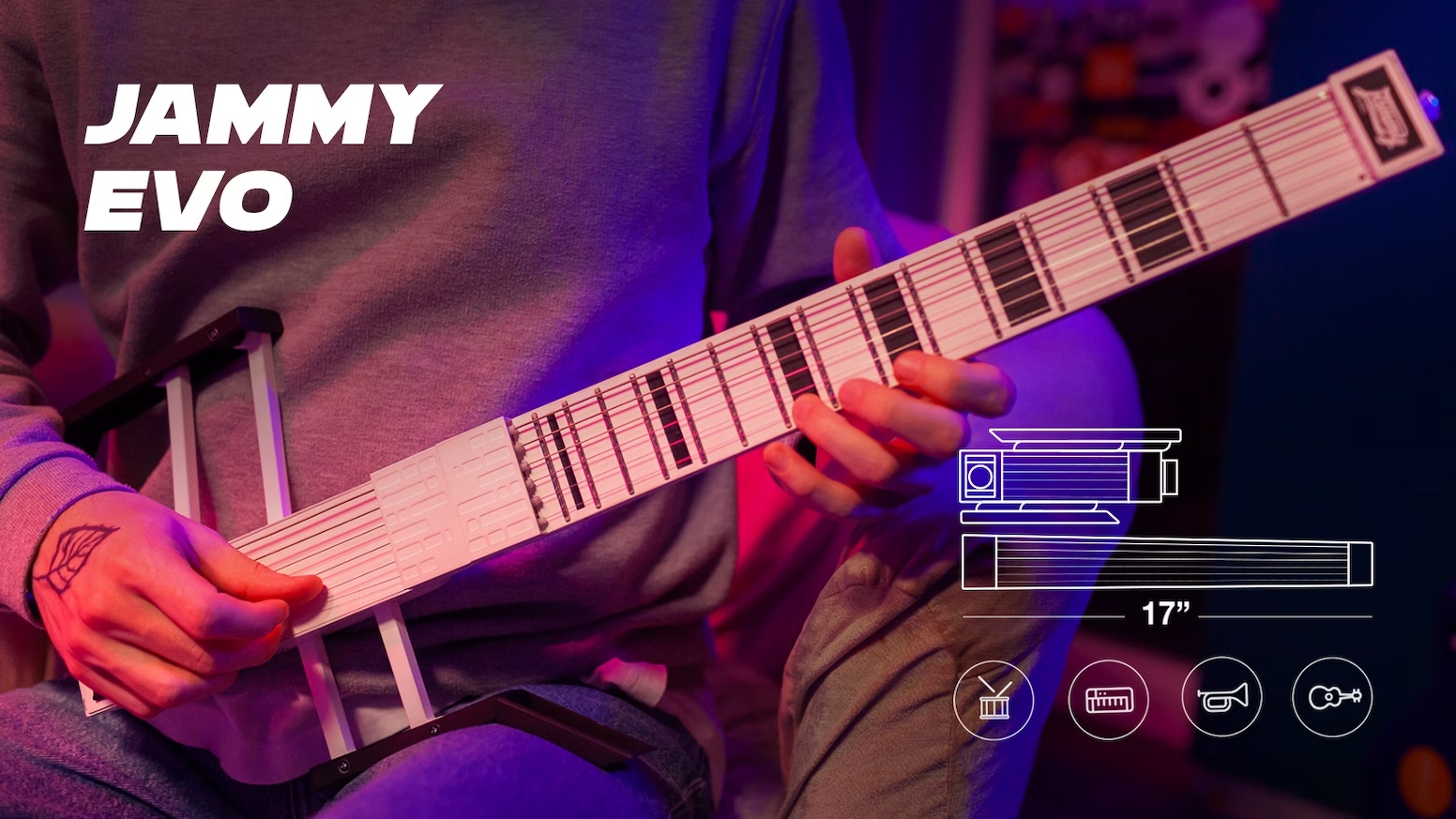 Do you fantasize about the next-level music experience? Embrace the thrill with Jammy EVO, an award-winning, midi guitar gadget that's revolutionizing the music world. This unique tool isn't meant for the faint-hearted. It's been specifically designed for those daring enough to push boundaries and explore the universe of endless musical possibilities.
Let me introduce you to some impressive features of the Jammy EVO:
First, its frame is collapsible, fitting conveniently into a small backpack, never letting travel be a roadblock to your music sessions
Second, it comes with optional replaceable metal strings for that authentic guitar feel
The accelerometer can add a whole new dimension to your music, being MIDI-mapped for any use
Lastly, its knobs and button encoders let you map, trigger, and control effects in diverse ways
Suiting any genre, Jammy EVO adds that exciting touch to bring your musical concepts to life. If you're seeking a perfect blend of simplicity and technology in your musical gadgets, Jammy EVO is your ultimate calling!
5. SubPac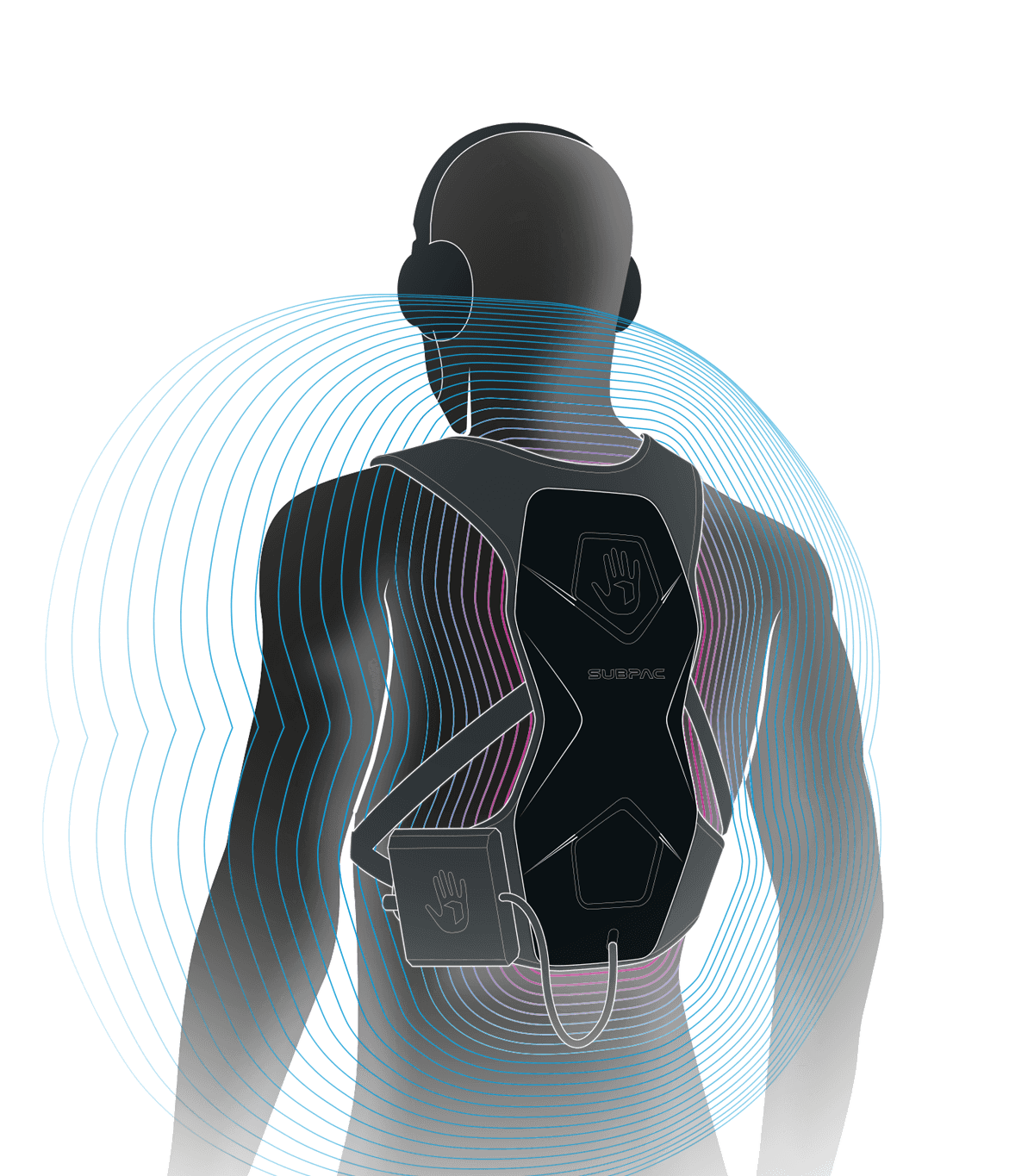 Imagine being able to feel the music, not just hear it. With SubPac, this previously unimaginable auditory experience becomes your reality. Part Kickstarter sensation, a part revolution in audio technology, the SubPac is a wearable device that caters to sound aficionados and musicians alike.
Why is SubPac a must-have? Let's delve into its unique features:
A low-frequency resonating unit: It syncs with your body, delivering bass vibrations that are akin to a live concert's pumping sound system.
Versatility: Notably, the SubPac isn't confined to just one type of use. From enhancing VR gaming and cinema experiences to being a part of the interiors of high-end sports cars, this device transcends boundaries.
Stellar backing: Musicians from George Clinton to Timbaland have expressed their love for SubPac. It amplifies their music creation, particularly in genres like dubstep, grime, and house.
Wearable or Studio-Chair Version: Two distinct versions open up possibilities for different needs and situations.
In conclusion, SubPac is an indulgence that music enthusiasts will appreciate, providing unparalleled immersion into the world of sounds. Pro tip: For an amplified experience, combine SubPac with high-quality headphones.
6. JOUE Play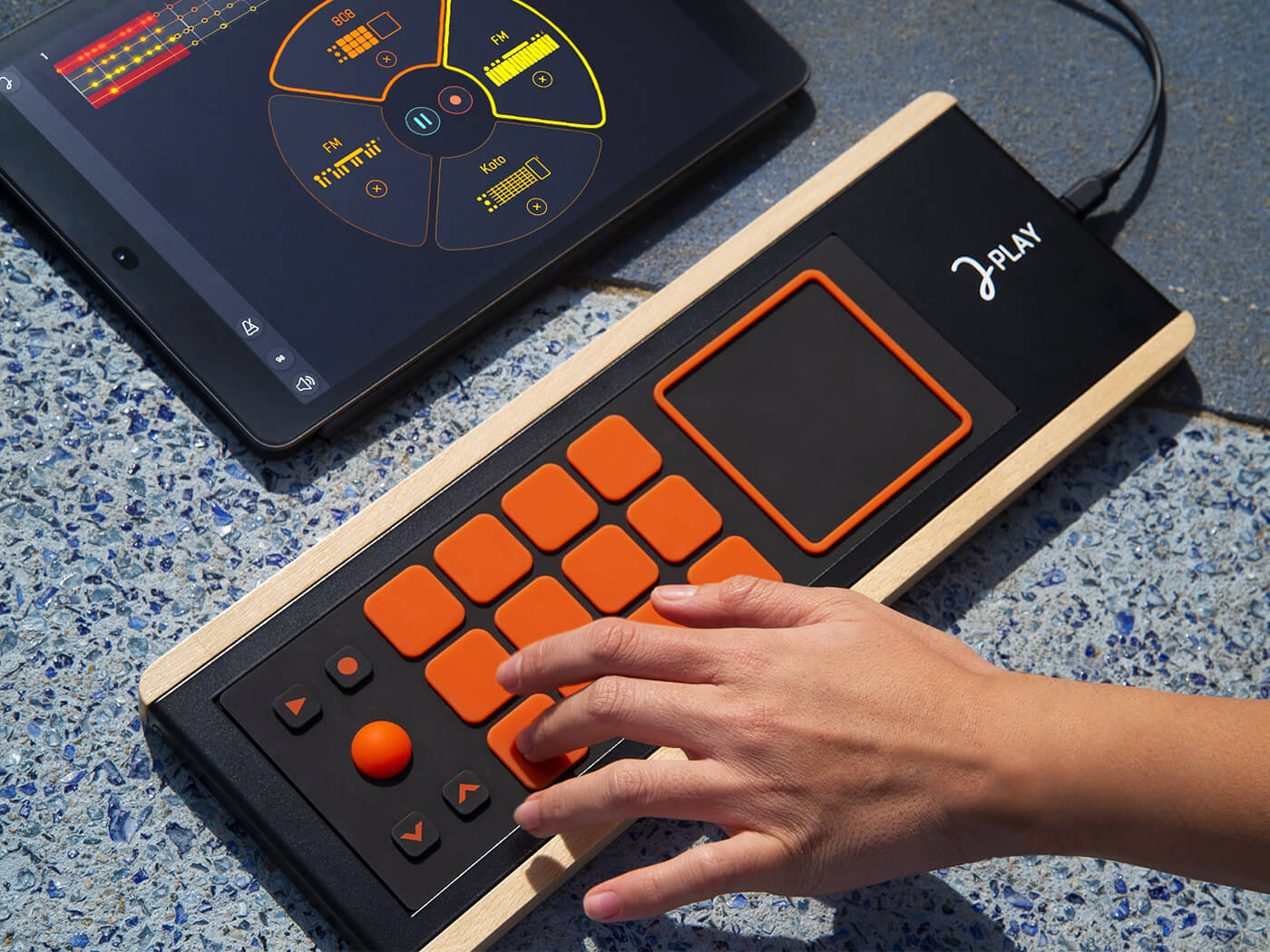 Say hello to Joué Play, your fun and flexible music mate! This surprisingly compact device lets you switch between instrument surfaces in an instant. Its touch-sensitive materials, diverse shapes, and patterns make it an expressive companion for sound enthusiasts. With its plug-and-play capability, range of epic sounds, and programmable responses, it's a bang for your buck. Who does this suit best? It's perfect for budding musicians, seasoned professionals, or anyone who loves to experiment with sound. Take note of these expert tips. Master your musical experience with:
The companion app for tailored sounds.
An iOS adaptor for ultimate customizability.
The board unit, 4 separate interfaces, sample packs, and onboard sound kits are yours for just $289 USD. Let the music play, with Joué Play!
7. ROLI LUMI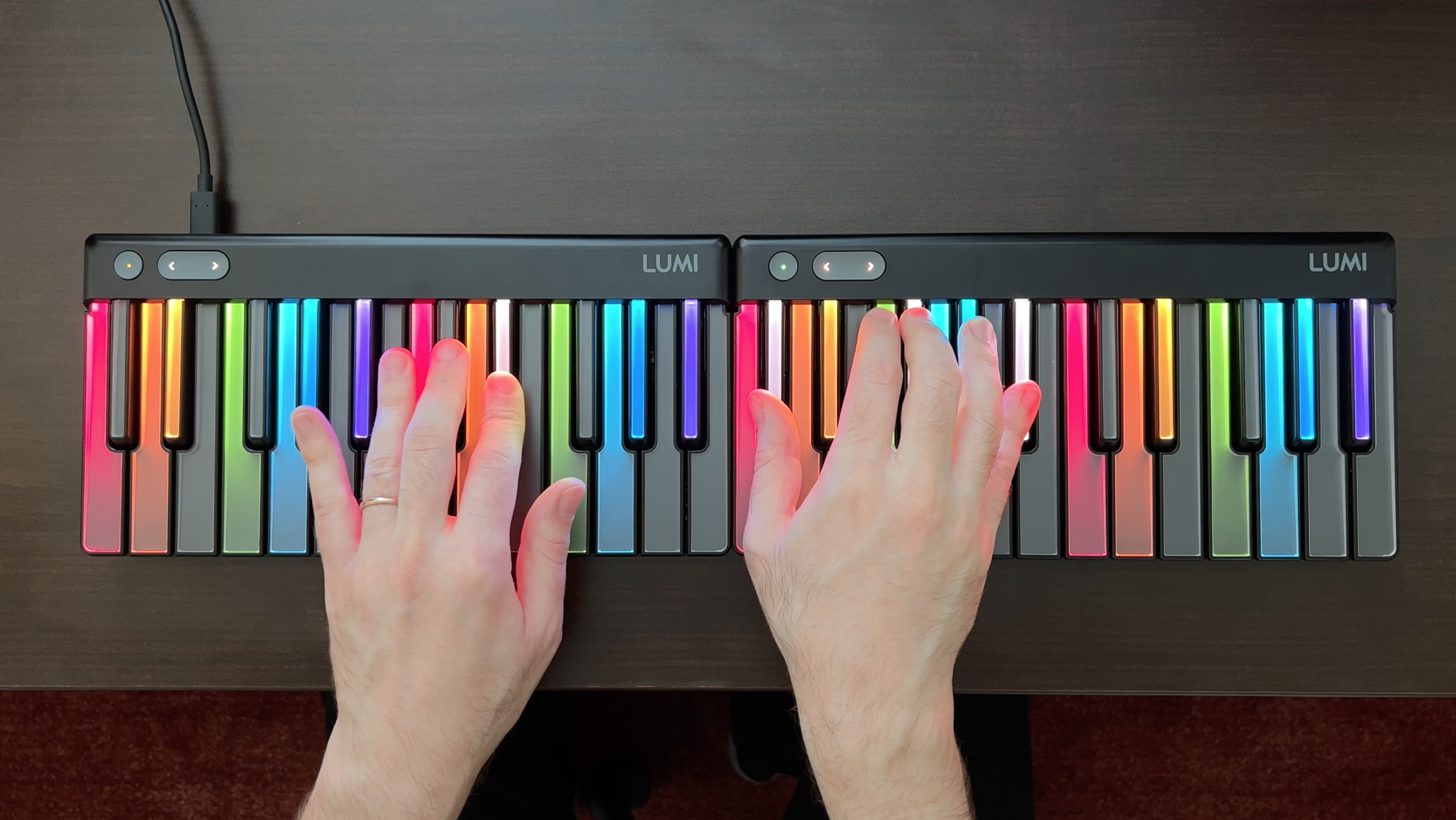 This small, innovative keyboard breathes life into music education, making it feel more like a game than a chore.
ROLI LUMI is a perfect companion for both beginners and pros. For beginners, it offers a fun, intuitive platform to learn music theory and songwriting. The keyboard lights up to guide you, allowing for a more visual and engaging learning experience. But it's not just for the novices – even seasoned musicians can pair it with other ROLI products for an enhanced production setup.
To maximize your ROLI LUMI experience, explore its wide array of speeds and styles, try both contemporary and classical songs, and definitely tap into the freestyle modes. Be creative and don't be afraid to experiment, that's how music is made after all. So, what are you waiting for? Dive into this radical approach to music and let your creativity run wild.
8. LIVID INSTRUMENTS MINIM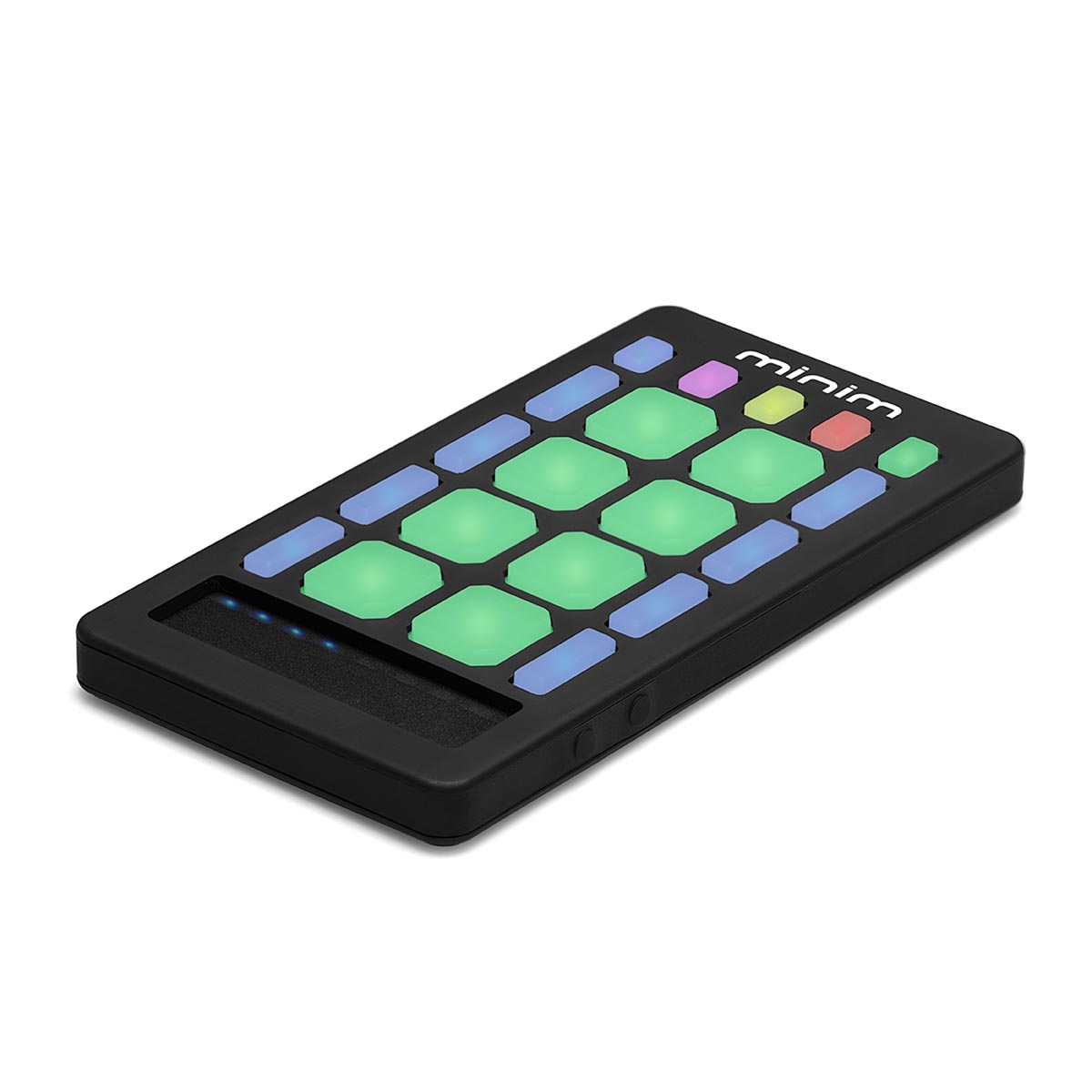 The compact and highly versatile musical gadget that will revolutionize your music-making experience.
Forged through the expertise of Livid Instruments, a company reputed since 2006 for integrating music-making needs into one compact device, MINIM packs a punch larger than any other gadget in the market.
Reasons why MINIM is a top pick:
Hosts 8 ultra-expressive pads and 15 buttons for easy accessibility.
Equipped with a unique "touch fader" that seamlessly synergizes with almost all DAWs.
Brilliantly portable, weighing just a few grams and the size of an iPhone 6.
Ideal for the traveling musician, the ever-ready producer, or anyone aiming to materialize their musical ideas, the MINIM is your perfect companion.
9. Studio Monitor Subs Bundle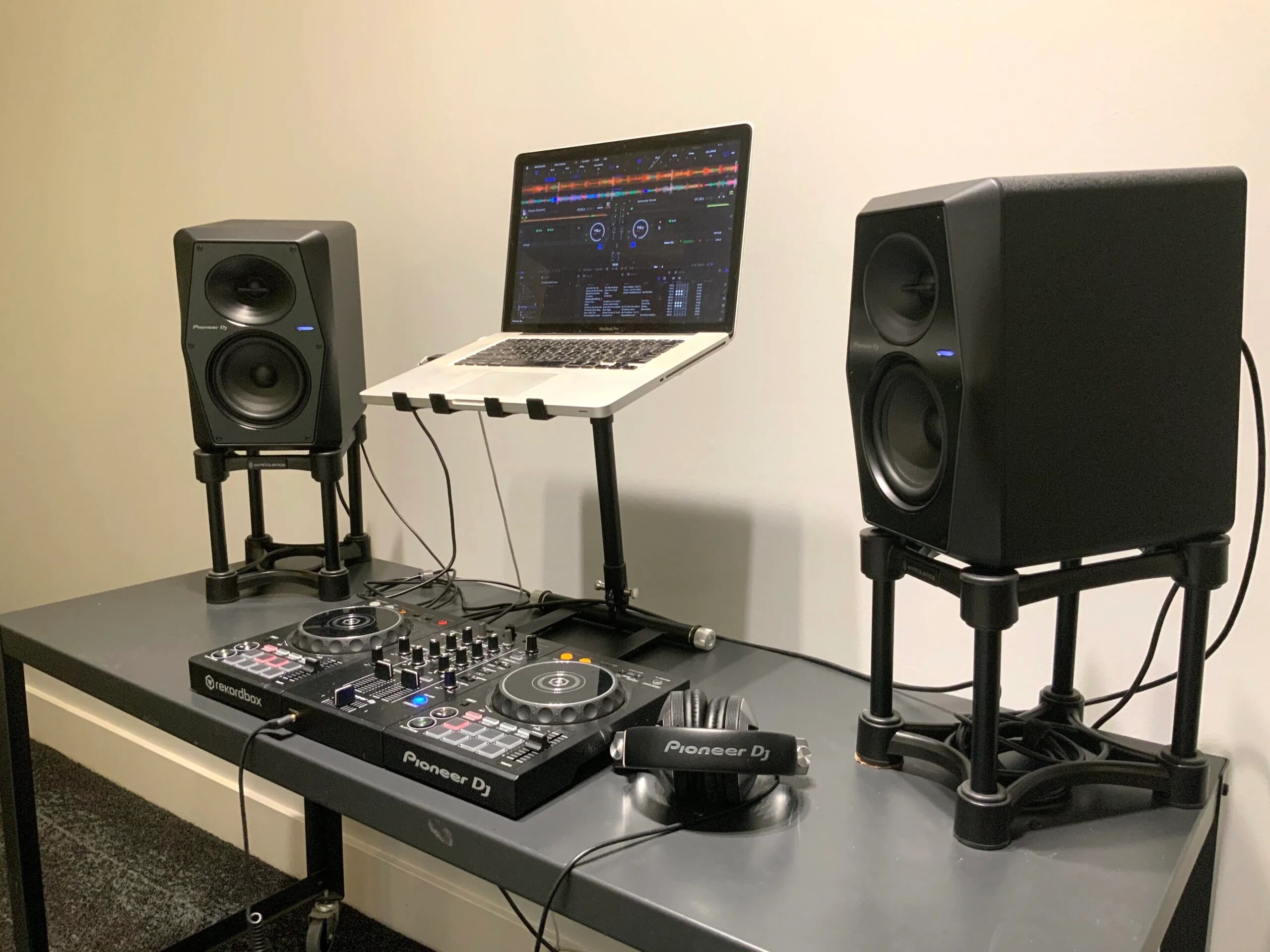 It's a game-changer for music lovers, with top-notch brands like Pioneer DJ VM-50, Yamaha HS7, and Rokit 5 being part of this fantastic package.
Pioneer DJ VM-50 offers powerful studio monitors, pampering our ears with an accurate sound signature. Its adjustable EQ knobs ensure a tailored sonic experience.
For music producers, the Yamaha HS7 is an integral part of their studio. Its compatibility with different sound equipment makes it a must-have device.
The SubPac, originally a successful Kickstarter project, imitates the feeling in the body only a pumping sound system can generate by allowing users to feel the bass of the music.
Last but not least, the KRK Rokit 5 provides high-quality sound, facilitating a clear understanding of how the music material sounds.
This bundle is perfect for musicians who create music, and those who just love listening to it. It's a worthwhile investment for improved music recording, mixing, and playback.
10. Apple AirPods (3rd Generation)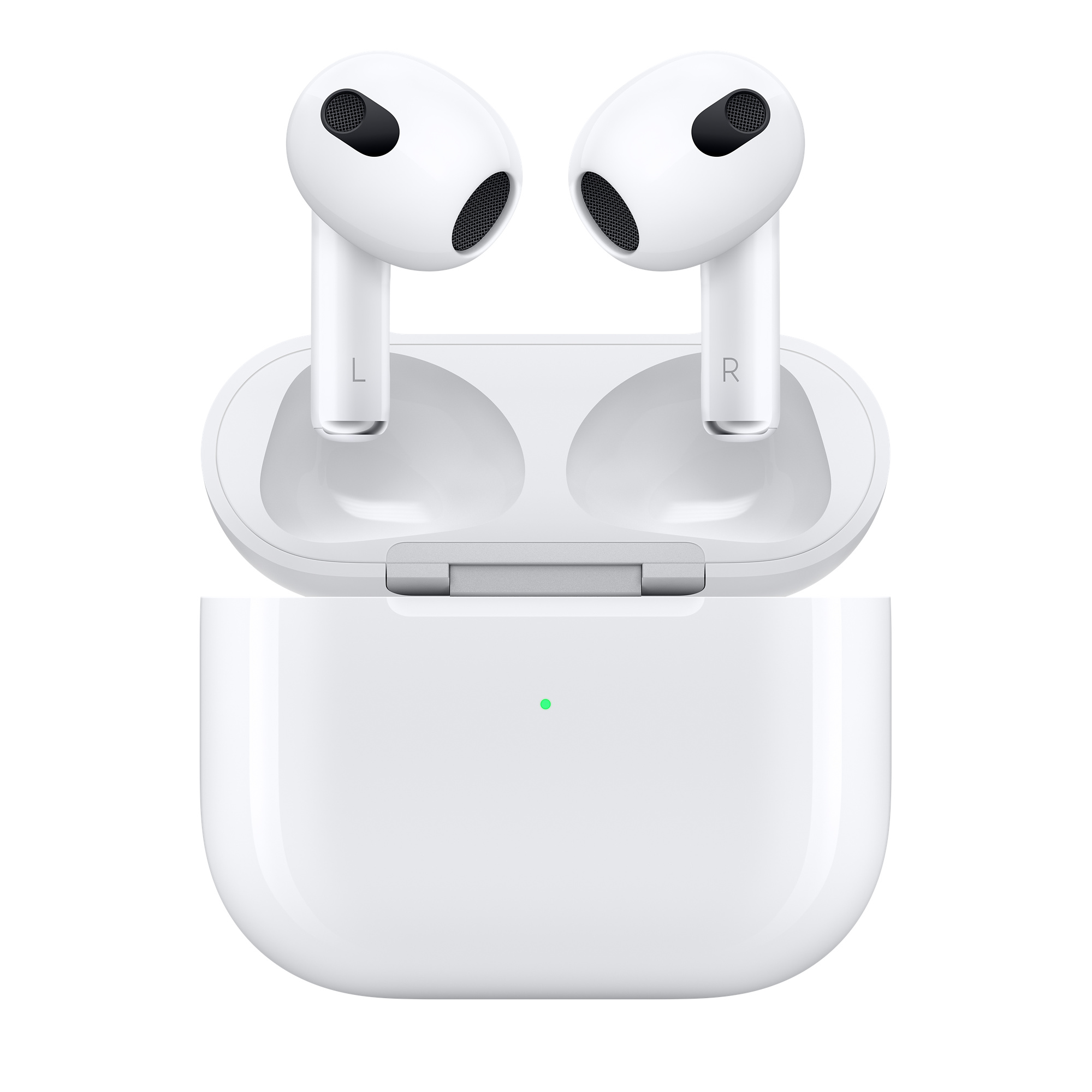 As a gadget enthusiast, I can tell you that Apple's AirPods (3rd Generation) are some of the finest earbuds available on the market right now. These aren't just any ordinary earbuds – their bass depth is notably better and they're far more rugged than their predecessors.
First up, the elements that set them apart: they fit perfectly in your ears and are incredibly convenient because they're light, pair automatically with your phone, and stay put surprisingly well.
In terms of who it will suit best, Alexa users find these AirPods particularly easy to use, since they pop in and link up with their phones effortlessly.
How to Choose the Right Music Gadget for You
When it comes to choosing the right music gadget for you, it's essential to first recognize your specific needs and levels of interest in music. Are you a passionate music lover who's simply looking to enhance your listening experience or a professional music producer geared towards injecting their performance with a unique edge? Evaluate factors such as portability, sound quality, and adaptability to your musical needs.
The aim is to acquire a gadget that not only suits your musical requirements but also provides you with the best value for your money. In a world where technology is revolutionizing our interaction with music, make sure your choice of gadget brings the best melodies to your ears.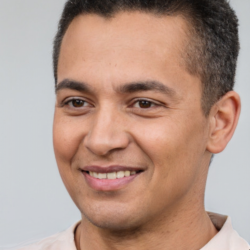 Latest posts by Mason Fairbank
(see all)