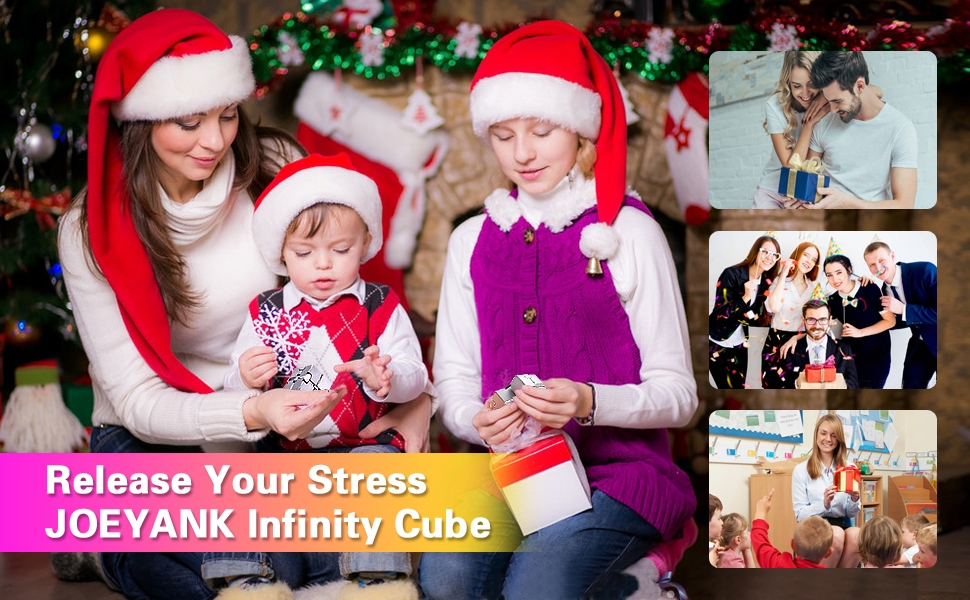 A must-have fidget infinity cube toy for kids, teens, and adults.
This gift is a great choice for birthdays, Christmas, Thanksgiving, Halloween, and New Year, as stocking stuffers, or as party favors or event props. It's unique and beautifully packaged, making it perfect for colleagues, friends, relatives, and children.
Why choose our Metal Fidget Infinity Cube?
Well Made: This product is crafted from premium anodized aluminum alloy, and CNC machined for durability. 
Safe: This product is safe and odorless, meeting and surpassing the ASTM International Toy Safety Standard.
High-Quality Retail Packaging: Protect the cube more securely without worrying about it being damaged.
Infinity Cube is made up of eight small cubes, which can be rotated in any direction and angle. It's a great way to improve your focus while studying, working, or brainstorming – simply flip and fold for everyday stress relief!
Included:
1 x Fidget Infinity Cube

1 x Outer packaging

1 x Matching pouch to store your cube
Premium Aluminum Alloy

This Metal Fidget Infinity Cube is crafted from high-quality anodized aluminum alloy, and CNC machined for durability, allowing it to withstand continual flipping and folding.

Portable Pocket-Sized Toy

This simple, lightweight, pocket-sized device is fun and easy to take anywhere, making it great for focus and deep thought.

Helps Improve Fidgeting Habits

The Metal Fidget Infinity Cube helps improve finger movement and sensitivity and can help curb habits such as nail biting, smoking, leg shaking, and other fidgeting.

Reduce Stress and Relieve Anxiety

The Metal Fidget Infinity Cube is great for relieving fidgeting, anxiety, ADHD, autism, and phone stress and keeping you awake on long car drives, as well as helping you focus and think deeply. This cube provides a calming sensation for your mind!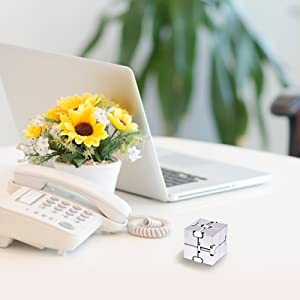 Play anywhere and anytime
The Metal Fidget Infinity Cube is noiseless, meaning you can play with it in any setting, including school, meetings, classes, work, the car, or the bus, without disrupting others. Its endless flipping and folding allow you to transform it into different shapes, making it a great desk accessory for your office or home.