We are committed to providing you with excellent-quality kitchen tools.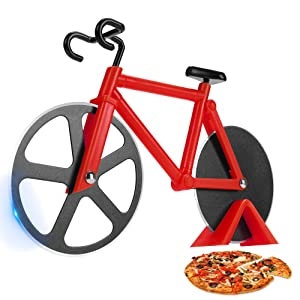 Bicycle Pizza Cutter
Amazing Kitchen Tool
Cut your pizzas with a fun kitchen tool – the Bike Pizza Cutter!
Gifts for Men, Kids & Bike Lovers
This gift is ideal for Father's Day, perfect for kids' birthdays or pizza parties, and a fantastic present for cyclists or bike lovers.
Gift Box Included
The Bike Pizza Cutter comes in a lovely gift box.
Specifications:
Diameter: 3 Inch

Length: 7.3 Inch

Width: 4.7 Inch

Material: Stainless Steel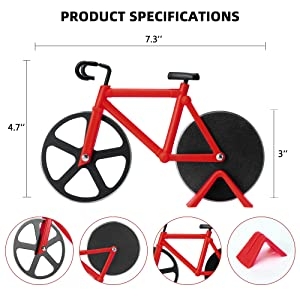 Features:
Made with premium stainless steel and durable construction, our Bicycle Pizza Cutter is designed to last.
This delightful 1/10th scale bike pizza cutter, complete with frame, wheels, seat, and handlebars, is the perfect gift for any occasion.
This 3-inch size is perfect for both men and women. It looks great in any kitchen.
These items are simple to clean, either by hand with soapy water or by placing them in the dishwasher.
Cute Kitchen Gadgets

This Bicycle Pizza Cutter comes with an accompanying stand for easy display and storage, enabling it to be conveniently kept upright on the counter.

Quality Pizza Cutter

The Bike Pizza Cutter is designed with durable construction and has double wheels, allowing for great pizza cutting.

Amazing Gift

The gift box containing the Bike Pizza Cutter makes a great Father's Day present, as well as being perfect for children's birthdays or pizza parties. It's a great gift for cyclists and bike lovers alike.