EDC Mini Pocket Knife Set
4Pcs EDC Knife Set:

The package includes 4pcs of different mini chef knives in 4 different sheaths.

Exquisite Design:

You'll be mesmerized by the unique design of these chef knives.
Mini Size: This compact size of just 1.7 inches makes it easy to slip into a pocket, perfect for any EDC enthusiast!

Multiple Usages:

This multipurpose tool can open small fruits, boxes, envelopes and letters, as well as being suitable for miniature decorations.
Exquisite Design
| | | | |
| --- | --- | --- | --- |
| Stainless Steel Blade | Natural Wood Handle | Leather Sheath & Keychain | Born for EDC |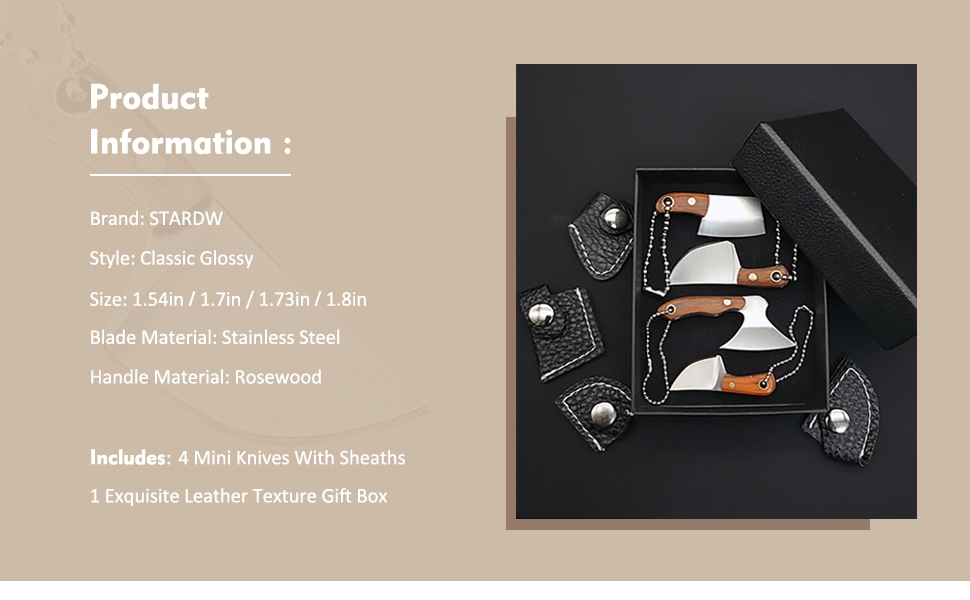 Multiple Usages
Package Opener

Cut Box:

This is ideal for opening letters, packages, envelopes, grocery bags, plastic bags, packing tape, and other items.

Decorative Accessories

DIY:

Unleash your infinite creativity to craft your own unique decorations!

Fruit Knife

Cut Fruit:

It can also serve as a mini kitchen knife for cutting small fruits and cheeses.
Toy Accessories

Entertainment Function:

Transform your figurine into something really special – what would it look like if it were holding this knife?

Paper Cutter

Utility Knife:

This reliable and practical knife can be used for utility and decoupage purposes in DIY projects.

Keychain Decoration

Easy to Carry:

You can hang this mini-size key chain on your backpack or car keys, making it easily accessible whenever needed.
A Practical and C0ol Gift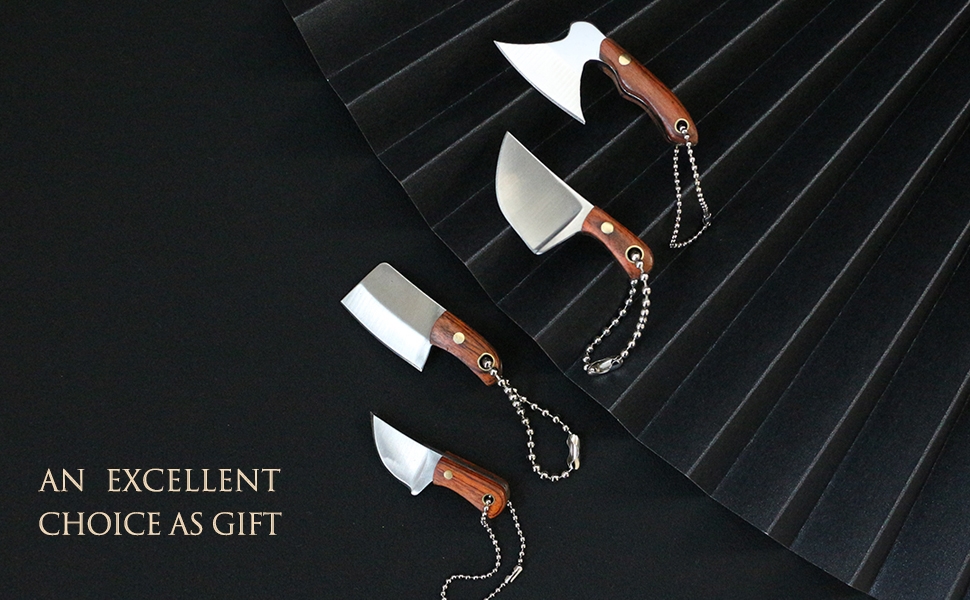 Not only are these miniature gadgets useful, but they also make for adorable decorations and collectibles!
People fascinated with mini versions of things will love the tiny pocket knife as a gift.